Cape Town author, artist, photographer & graphic designer


PERSONAL DETAILS
Name: Etienne Rossouw
Date of birth:  1974
Languages: Afrikaans and English
TERTIARY EDUCATION
Livingstone Tourism Academy (2009)
Diploma in Film & Broadcasting – Allenby Campus (2003)
National Diploma in Graphic Design – Cape Technicon (1996)
SECONDARY EDUCATION
Matriculated at DF Malan High School in Bellville (1993)
(Primary Education at Welgemoed Primary School)
EMPLOYMENT
Chess lessons (2021 – )
Tygerbergstories.co.za (2016 – )
African End Tourism Assistance (2009- )
Arcus Gibb Engineering (2006-2007)
The MSC "Rhapsody of the Seas" (2005-2006)
Palace Productions (2003)
BKS Engineering (PTY) Ltd. (2001)
Boss Models, Beau Models (1996-1999)
Etienne Rossouw Productions (1998 -)
Butler's Pizza (1995-98)
INTERESTS
Photography, graphic design, jogging, swimming, gym, chess, writing, reading and politics.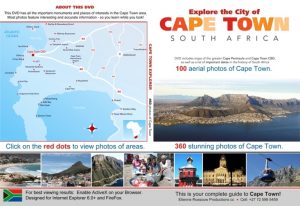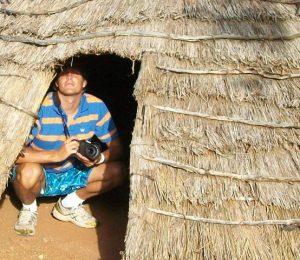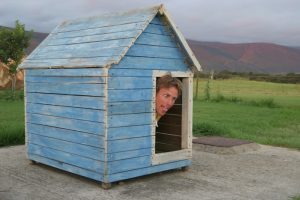 My house in Africa on the left. As a successful South African photographer, I recently bought a new wooden house.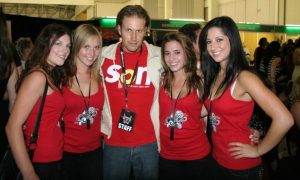 Just another day at the office. Here I am at the Girls Night Out Party at the Cape Town International Convention Centre in 2010,
where there were approximately 1 000 women and only one man . . . me, the official photographer. Yeehah! I love my job.
Following this particular party, I made these lovely, young, vibrant women my wives.
It's African custom to have at least four wives.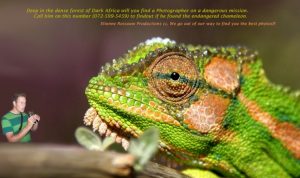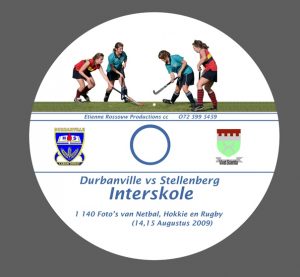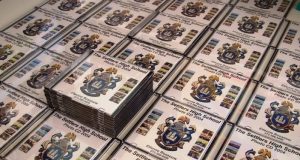 I did inter school photos for years, were I sold my pic's on DVDs. On the right is Settlers High school,
my favorite school to photograph. The kids are just so alive in front of the camera. Always a pleasure to be there.
Here lay hundreds of Photo CD with everything from class photos to sport photos.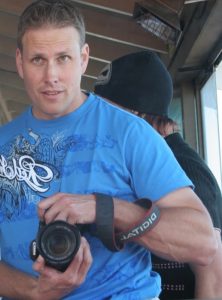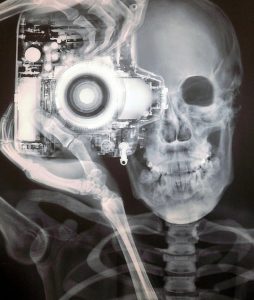 Photo on the left: As a photographer, no one ever takes photos of me. It's always me taking photos of THEM!
Here I am, taking a photo of myself in the mirror (2008).
Photo on the right: "Smile for the photo! Oh, why are you crying? Is something freaking you out? Whahaha!
Am I taking a photo of an X-ray machine or is the X-ray machine taking a photo of me?
---
2011 – 2012: Colt Talent casting agency (background and stand-in actor)
De Heineken Ontvoering (May 2011)
Captain Cook (Nov. 2011)
History of the World (Nov. 2011)
Mankind – The Story Of As All (Nov. 2011)
Labyrinth – acted with the well known actor Tom Felton from the Harry Potter film series. (Dec. 2011)
Company Solicitors UK (Feb. 2012)
Home Land (USA series) Acting with Claire Danes in Cape Town.
---
2006 – 2007: Arcus Gibb Property Valuator
I worked here for about 18 months as property valuator during the 2006/07 Property Valuation Project
(the General Valuation Project). From January 2006 until the project ended in August 2007, I did property
valuations from house to house.
Any changes to current structures and alterations to buildings were measured and stipulated on new plans
that I had to sketch onto their existing house plans. I worked in some of the most filthy rich
neighborhoods in Cape Town, as well as some of the most dangerous and poor factory areas in the Cape
Town area, risking life and limb almost every day.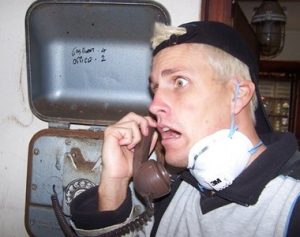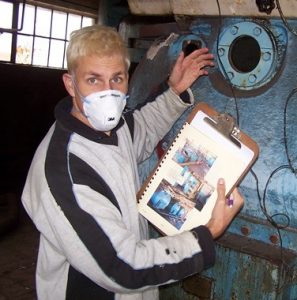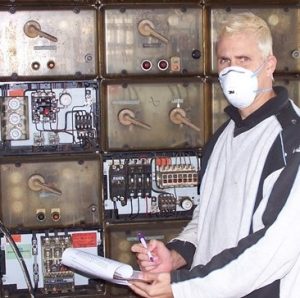 "Huston, we have a problem! There's space rats in the nuclear rocket booster."
"Captain Rossouw, this is mission control . . . Cancel the mission to planet Zork immediately."
"O rats! Here they come! Tell my family I love them . . ."
---
2005 – 2006: The MSC Rhapsody of the Sea cruise liner photographer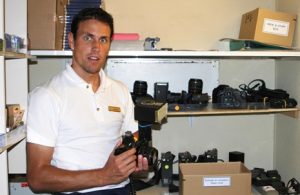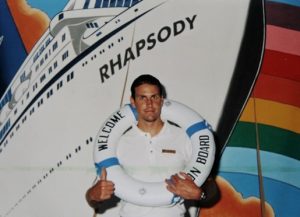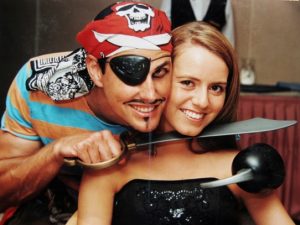 The MSC Rhapsody of the Sea is an Italian cruise liner that departs from Durban harbour to Mauritius every four
to seven days. I was one of the photographers on the ship and also responsible for the photographic sales.
Photography on the ship included:
Taking photos of passengers in front of the cruise liner.
The Sail Away Party – the ship leaving Durban harbour; party people party hard and I take hard party photos.
The ship safety drill – the passengers adorn life jackets and crew members go through the safety regulations with them.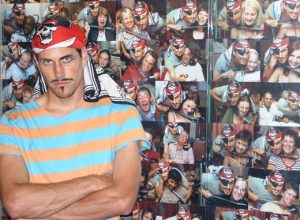 During dinnertime I was Captain Hook. I had to entertain guests at the tables, while other photographers took
pictures of them with me in character as Captain Hook. Exotic dancers also visited the dinner tables and I
took photos of them posing with excited passengers.
At the Captain's Ball I took photos of the guests posing with the captain.
I also took photos of passengers getting off the rubber ducks at the tropical islands.
Other photographic events on the ship included photos with newlyweds cutting wedding cake with the captain,
passengers swimming and tanning at the swimming pool on the cruise liner's top deck, the late night cocktail
party, group photos and approximately three weddings a day!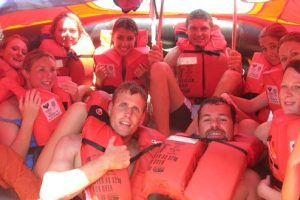 Here I am doing my safety training in Durban before departing on the cruise liner.
---
2000 – 2001: BKS Property Valuator
I was employed on a project for the property valuation of houses to determine the new rates and taxes for 2002.
The project included the following:
Various residential areas were allocated to us to evaluate. We had to make the necessary changes to house
plans for future tax amendments. Dealing with property owners was at times a challenging job. If you weren't
a people person you wouldn't have been able to do THIS job. I pride myself on my customer relations.
This ensured that I was the top employee for the entire project.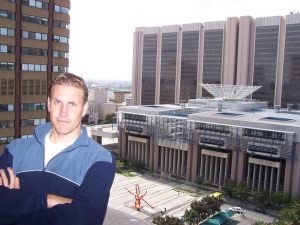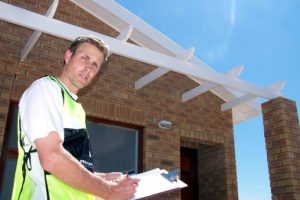 The photo on top is the view from my Cape town office and on the bottom I am valuating a pretty boring house.
At the end of the project I received a certificate for best property valuator for the Property Valuation Project at BKS.

Local hero: Keeping the community save. This is a newspaper article (in the Afrikaans language) about
my bravery when I caught burglars in my community, back in 2001. "Superman's got nothing on me!"
---
1995 – 1999: Butler's Pizza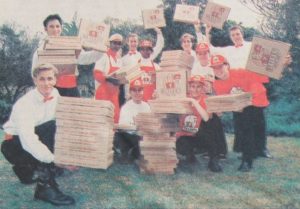 I was a pretty good pizza delivery driver at a then still new pizza parlour, Butler's Pizzas, fulltime for four years.
I was employed at both the Bellville and Monte Vista branches.
Wearing an uncomfortable "penguin suit" in the summer, with temperatures sometimes souring
to an insane 40?C, was loads of fun. My highlight in 1997 came when I made it on to the front page
of the Cape Argus newspaper.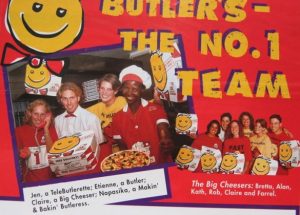 After approximately 4 000 pizza deliveries, I finally ended up on the colourful Butler's Pizza menu.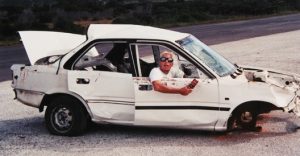 "The quicker you deliver your costumer's pizza, the bigger the tip," was my motto. Known as the
Butler's Hell Driver, I eventually totalled my car in Lincoln road, Boston, after several stern warnings
from Butler's management to slow down.
---
Sport Achievements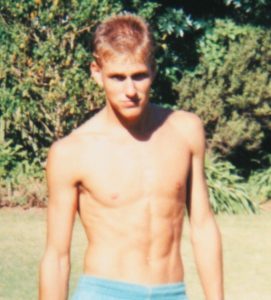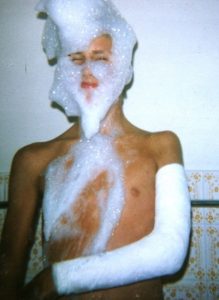 My lean, athletic 13-year-old gymnast body in 1988. I received Western Province Gymnastics colours in 1986.
I did Kung-Fu fighting from 1988 till 1991. Even though I could kick some serious butt,
I wasn't as good at Kung-Fu as I had assumed.
---
2009 – 2012: Western Cape tourist guide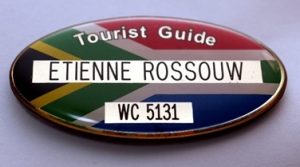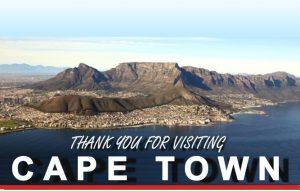 In 2009 I studied at Livingstone Tourism Academy, received my well-deserved tourism diploma, got a job
around the corner at Tour Assist and worked there till 2012.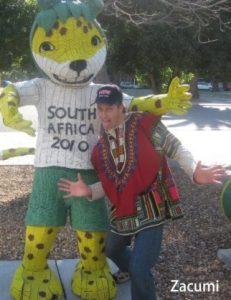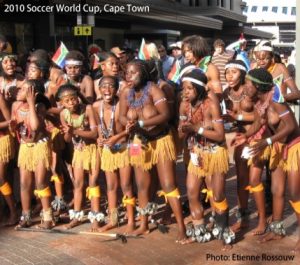 Being a tour guide during the 2010 Soccer World Cup in Cape Town was a blast! Hotels were fully
booked and the Cape Town International airport was bustling.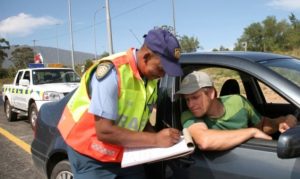 WTF?! Getting a speeding fine for driving too fast to the airport.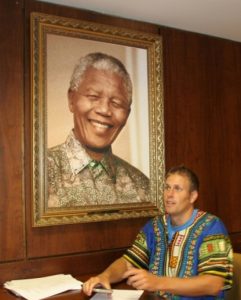 Dear President Nelson Mandela. I am writing a letter to you to tell you how wonderful our country is, since
apartheid has been abolished.
I am currently at page 23 of my thank you letter and the words of gratitude just won't stop.
Tourists often ask me, how was it growing up during the apartheid era? And I often answer, well . . .
it was heaven on earth, because I am white.
Little did I know what apartheid really was. Now that we live in a democratic society, we all have a vote
and a voice to make South-Africa the best country on earth.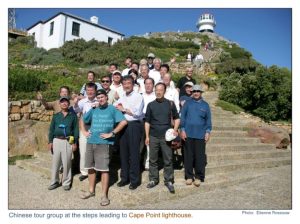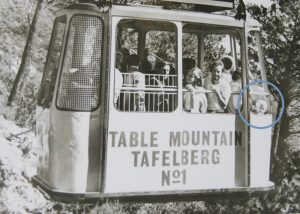 Ascending Table Mountain in an old cable car, all the way back in 1979. That little four year old on the
right is me. From a very young age, I have always loved to travel. And now that I am a tourist guide,
I have ascended Table Mountain with the current cable car more than 300 times . . . for free, because
us guides get lots of freebies. Heehaw! Up, up and away we go!
---
Etienne Rossouw – The Artist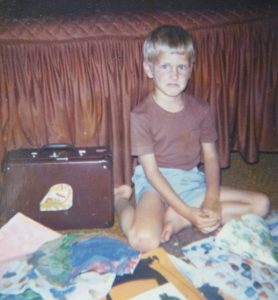 It's 1980 and I am five years old. My mom took photo's of me with my drawings. I was very unhappy,
because I did not present my best work. Just as she took the photo,
I pulled a rather ugly "I'm-not-in-the-mood-for-photos" face.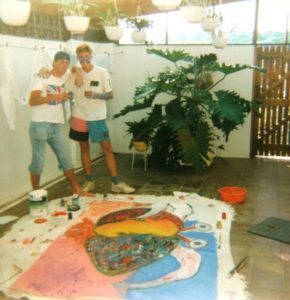 Me, my buddy Jacques de Villiers and Jan van Zyl (who took the photo)
creating art (masterpieces) during school holidays in 1990.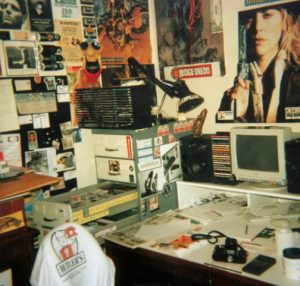 The busy studio of a talented graphic designer in 1997. Check out my cool Sharon Stone poster.
I had such a huge crush on her.
Graphic awards
• Merit prize for best graphical drawing – The Arts Association of Bellville (1997-1999).
• Goldman & Harris Choice Awards – third place nationwide for a company logo design (1996).
• The 25th MTC Ad Awards – The best design and layout for Dinosaur board game (1996).
---
2000 – 2001: Oil paintings on canvas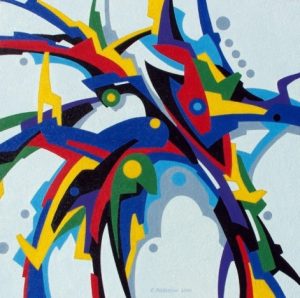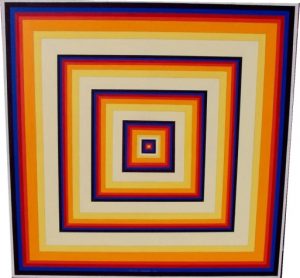 These paintings are all 1 200 cm x 1 200 cm in size and took months of effort to complete.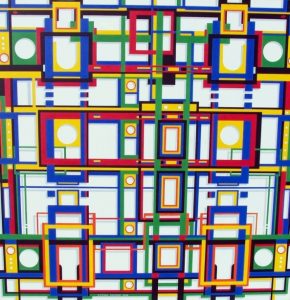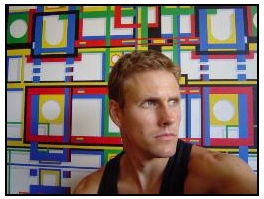 Etienne the artist, age 26.

Here I am drawing lines with colour copic markers on canvas before I start painting.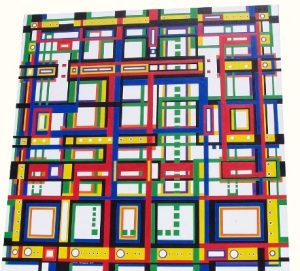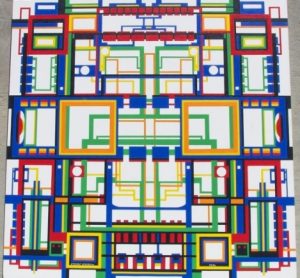 Two more colorful, incredible works of my art.
---
2007 – 2010: I created hundreds of intricate graphic designs