Parow – Die 1976 Soweto-opstande en -betogings in Parow
Die 1976 Soweto-opstande – mense het betoog oor die instelling van Afrikaans in meestal swart skole. Nie lank nie of betogings teen Afrikaans as onderrigtaal was landwyd.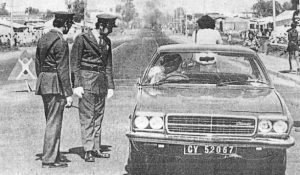 Vele drywers wat gister in De la Rey-weg in Ravensmead gery het, het erge skade gely toe hul voertuie deur erg omgekrapte nie-blankes met klippe gegooi is. Dié foto is op die hoek van Francie van Zyl-rylaan en De la Rey-weg geneem.
(Die Burger, 9 September 1976)
---
Polisie skiet betogers
Onluste het gister gewelddadig in die Kaapse middestad en verskeie bruin woonbuurte, veral in Tiervlei, voortgewoed ná 'n naweek van relatiewe kalmte in die Skiereiland.
Minstens drie moeilikheidmakers is deur die onluste-polisie doodgeskiet – een op die Parade en twee in Tiervlei. Tientalle ander is met skietwonde en verskeie beserings in hospitale in die Skiereiland opgeneem. Die toestand van sekere skietslagoffers is kritiek.
Sowat 33 000 kleurling-hoërskoolkinders van 40 skole was afwesig. Kleurlingskole was bykans 'n week gesluit.
Naby Guguletu het die polisie op sowat 300 skoolkinders van Heideveld losgebrand. Hulle het donshael gebruik nadat die oproerige kinders die swart woonbuurt wou binnegaan.
Toe die Onluste-eenheid die kinders wou keer, het die polisie onder vlieënde klippe deurgeloop. Die jonges het laat spaander toe die polisie hulle met haelgewere begin skiet het.
(Die Burger, 8 September 1976)
---
Peninsula unrest spreads
Shotgun fire could be heard all through Ravensmead. A diesel tanker was also set alight. Tyres were burned across De la Rey road, blocking the way.
Furthermore, a petrol pump was set ablaze at a garage near the Medical Research Council's buildings in Francie van Zyl Avenue, close to the Tygerberg Hospital.
(The Cape Times, 8 September 1976)
---
Stoning means a boom for glaziers
The Cape Town glazier and glasswork industries are booming. Everywhere in the Peninsula windows and windscreens must be replaced after being broken by demonstrators hurling stones the past few weeks.
"It's as though they (the demonstrators) were agents for us," an Epping glazing company spokesperson said yesterday. "Business has been booming, especially over the past two days."
"It is too early to give figures yet," a glazier in Goodwood said, "but there is far more business now than when rioting was restricted to Langa and Guguletu.
"The windscreen business has gone up so much that I have to work overtime," a spokesperson for a Parow factory said. "We have had all sorts of vehicles to fix – even busses and trucks."
(The Cape Times, 9 September 1976)
---
The police, armed with FN rifles, were on standby
Ravensmead was quiet during the day, but yesterday evening stone throwing and burning was reported. The police, armed with FN rifles, were on standby as municipal workers began clearing the mess in De la Rey road.
Last night the police had fired star flares in Elsies River to light up trouble spots that do not have electricity.
(The Cape Times, 10 September 1976)
South Africa has entered its fourth month of unrest since it began in Soweto in June. The violence has again escalated this week.
The unrest has led to all coloured high schools in the Peninsula being closed for a week. This was done by principals and the administration of coloured affairs officials to calm the situation.
A number of statements from high schools were issued. All of them rejected apartheid, which was blamed for the unrest.
Since Soweto the demonstrations have claimed the lives of 350 people.
"God alone knows where it is all going to end!" cried a woman as she raced for cover during a teargas raid by the police in Tiervlei on Thursday.
(Sunday Times Extra, 12 September 1976)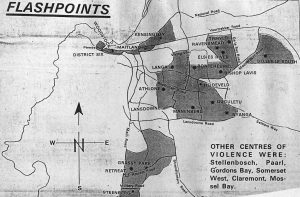 The Cape Peninsula, areas of violence. (Sunday Times Extra, 12 September 1976)