1954 – The Cape's First Show at Goodwood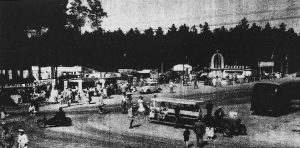 Here you can see some of the open-air industrial exhibits and commercial stalls, as viewed from the grandstand. The tractor bus used by visitors to comfortably view the whole of the vast grounds is also visible. (The Cape Times Weekend Magazine, 3 April 1954)
Jets flyover causes mayhem
During the biggest parade of cattle ever witnessed in the Cape Peninsula, four Vampire jet planes screamed low over the arena during an exhibition flight. Many prize beasts almost stampeded and some children burst into tears, fearing the worst. (The Cape Times, 1 April 1954)
---
Goodwood Jubilee – Goodwood turns 50

(Foto van Goodwood-bord oor pad, The Cape Times, 25 October 1955)
These spectacular arches, illuminated at night, have been erected over opposite ends of Voortrekker Road, Goodwood, as part of the town's golden jubilee celebrations this month.
FLAGS IN STREET
Archways at Goodwood's entrances in Voortrekker Road have been erected, while flags and bunting hang over the street, in preparation for the Jubilee. The main public buildings and prominent commercial houses will have nighttime illumination.
ARENA EVENTS
An industrial and commercial exhibition is to be staged at the Goodwood Showgrounds. Arena events will include displays of scooter-riding, judo, jet aircraft and fireworks, and even some athletic events.
---
1960 – Northern Areas plan Guy Fawkes show
The thunderous fireworks display staged at the Goodwood Showgrounds this past weekend is the inspiration for yet another pyrotechnical showdown, as the Northern Suburbs plan to make nearly as big a bang as the Mother City this upcoming Friday evening.
Two fully-organised Guy Fawkes extravaganzas are scheduled and the Goodwood, Parow and Bellville fire brigades will regard Friday as an "alert day".
The Bellville Municipality has prepared an open area at Hardekraaltjie, behind the rugby pavilion, for the fireworks spectacle, which will be open to the public. There will be a huge bonfire later on that evening, and the fire brigade will be on stand-by on the spot.
(The Cape times, 1960, exact date unknown)
---
1960 – Hula-hoop competition at the show grounds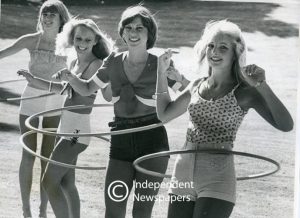 These four lovely ladies (now probably around 80 years old) are trying to keepfit with their hula-hoops. (Photo: digitalcollections.lib.uct.ac.za)
---
1971 – Die RSA 10-fees by die Goodwood-skougronde
Republiekwordingsfeesvieringe vind plaas vanaf die 21ste tot die 31ste Mei en woordvoerders by die stadion verwag 'n allemintige 80 000 mense om te kom saam feesvier.
A    Die hoofstadion met 'n kapasiteit van 80 000.
B    750 tente vir 4 000 mense sal hier opgeslaan word.
C    RSA 10-florafees.
D    Reuse-parkeerarea vir meer as 10 000 motorvoertuie.
E    Die ultra-moderne koepel van die Tegnorama.
F    Die Beheerradesale met plek vir nog uitstallings.
G    Binnemuurse sport – die grootste in Suid-Afrika.
H    Huisves onder andere die feeskantoor.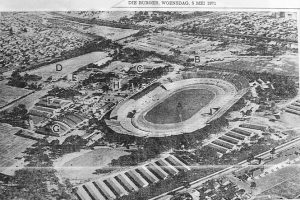 (Lugfoto van die Skougronde, Die Burger, 5 Mei 1971)
Boeresport is 'n treffer: Seker die grootste attraksie môre by die Goodwood-sportterrein sal die boeresport-kompetisies wees. Die byeenkoms sal begin met:
'n Eier-en-lepelresies – die wedloop sal oor 30 meter gehou word;
'n aksiebelaaide sakresies;
'n naald-en-gare-wedloop;
'n hinderniswedloop;
'n opwindende driebeenkompetisie;
'n kussingslaan-kompetisie;
vingertrek vir die sterkes; en
tawwe toutrek.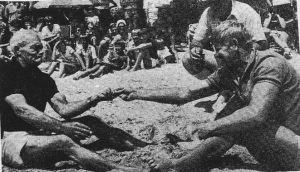 Tande kners en vasskop. Dit sal die gesig wees môre by die Goodwood-skougronde wanneer die sterkes mekaar in die vingertrek-kompetisie uitdaag. (Foto: Die Burger, 17 Maart 1978)
---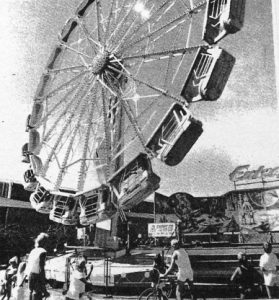 Die Big Wheel wat kinders gillend in die ronte swaai. Net regs van die Big Wheel is die bekende Looping Star rollercoaster (wipwaentjie).
(Die Burger, 3 Maart 1989)
---
1971 – Goodwood kry 'n ysskaatsbaan
Kaapstad se eerste permanente ysskaatsbaan is onlangs by die Goodwoodse Skouterrein geopen. Belangstelling is groot, met 'n toeloop van duisende skaatsers elke week na die ysskaatsbaan. Die baan sal eers in Augustus heeltemal gereed wees.
(Die Burger, 25 Junie 1971)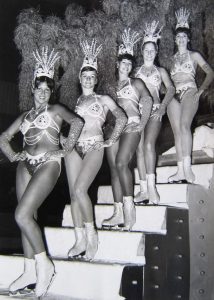 Dié mooi jong dames sal deelneem aan die ysskaatsvertoning, Champagne on Ice. Dit word binnekort by die Goodwoodse ysskaatsbaan gehou.
(Die Burger, 4 Desember 1974)
---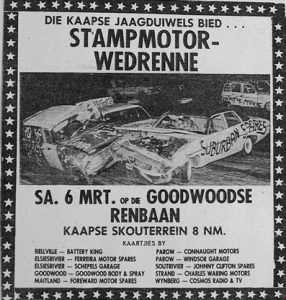 Advertensie van stampmotorwedrenne.  (Die Burger Bylae, 5 Maart 1982)
---
1991 – Bigfoot in Goodwood . . .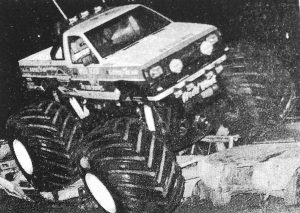 Monster-trok toertjies sal oor die volgende paar dae in Goodwood plaasvind.  Ian Soanes maak amok in sy "Wild Foot"-monsterbakkie by die Kaapse Skouterrein. (Tyger Burger, 16-21 Januarie 1991)
---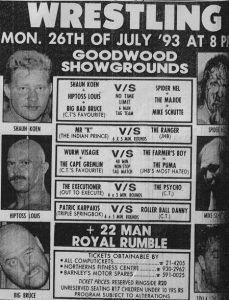 Die rowwe rofstoei wat destyds by die Goodwoodse Skouterrein plaasgevind het, soos uiteengesit in 'n advertensie in 'n plaaslike koerant.
(Foto: Tyger Burger, 27 Julie 1993)
---
2000 – Grandwest Casino open vir die publiek
Op 12 Desember 2000, is die GrandWest Casino op die destydse Goodwood-skougrondgebied geopen. Dit was die eerste casino wat in die Wes-Kaap opgerig is en was 'n onmiddellike sukses.
Binne die eerste drie ure ná die amptelike opening het meer as opgewonde en entoesiastiese 6 000 mense deur die deure gestroom. Tot vandag toe nog, doen die casino ongelooflike goeie besigheid, en mense is dag en nag by die casino aan't Roulette en Blackjack speel. Hier onder is 'n paar foto's wat ek geneem het.