Tygerberg – Nuclear Attack 'could mean chaos'!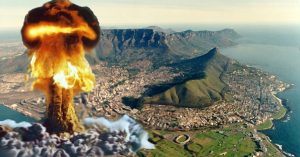 "Say goodbye to Cape Town!" An atomic bomb blast on Cape Town's V&A Waterfront could very well look something like this – you like my scary artwork?
---
1958 – Universiteite Soek £600 000 vir kerninstituut
Planne word beraam om 'n splinternuwe instituut vir kernnavorsing in Bellville op te rig, in samewerking met die Universiteit van Stellenbosch en die Universiteit van Kaapstad.
Die munisipaliteit van Bellville het reeds 'n stuk grond vir die doel beloof.
(Die Burger, 14 Augustus 1958)
---
Defence plan urgent 

if World War III became a reality
Dr. J.P. de Villiers, medical officer of health of the Cape Divisional Counsel, told representatives yesterday that if World War III became a reality, Cape Town and its surrounding areas could be reduced to a mass of destruction and radio-active rubble, with people running wild and scared – complete chaos.
(The Cape Times, 21 August 1958)
---
1958 – Nuclear civil defence plan for SA
A civil defence plan for South Africa, diminishing the consequences of a nuclear attack on many of the target cities in the Union, was released for the first time in Cape Town yesterday.
The destructive capacity of the hydrogen bomb is overwhelming. The blast could result in a 1.5 mile wide crater, followed by extreme thermal radiation, fire-storms and deadly gamma and neutron radiation within the blast area. Furthermore, a fall-out of radioactive particles over an area of 7 000 square miles downwind of the main target will ensue.
NUCLEAR TRAINING – First-aid education and anti-radiation precautions should become something everyone should be familiar with and a normal part of the educational curriculum.
LIKELY TARGETS – Target cities, such as Cape Town and Durban, should be organised to handle the ghastly conditions eminent from a nuclear attack, such as "express-ways". (Talking about quick getaways – a really bad time to be attacked in a nuclear manner would be during rush hour!)
(Cape Times, 28 August 1958)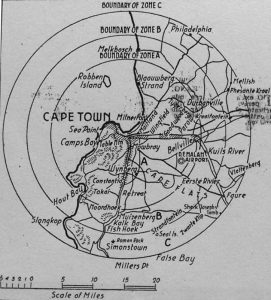 This drawing displays the zones of thermal radiation, which would come from the gigantic 4.5 mile fireball if an hydrogen bomb were to explode at the Cape Town harbour.
•     Everything combustible in the A-zone would burst into flames and those who were to survive in the zone would suffer acute third degree burns.
•     The B-zone would suffer moderate damage and scorching.
•     The C-zone will have light damage and people will sustain skin burns.
So, in what zone do you live?
(Cape Times, 28 August 1958)
---
1959 – What to do in a nuclear attack
Tips to homemakers on how to protect their families and property in a nuclear attack were provided during a talk on civil defence and nuclear warfare by the South African Atomic Energy Board at the Bellville Civic Centre last night.
LIFE UNDERGROUND
(1)   One of the suggestions was that the walls and ceilings of the bathroom of houses could be made of reinforced concrete to provide a make-shift nuclear shelter for the occupants. (So, what about the people living in shacks in the Cape Flats? Should they build reinforced concrete bunkers underneath their shacks, too?)
(2)   Buy enough food to last for at least 14 days. As canned foods do not hold radioactivity, they would be ideal. However, fresh milk could be dangerous, as it easily absorbs strontium particles (that sounds really bad!).
(3)   A radio is essential for receiving bulletins and special instructions.
(4)   Strict discipline has to be maintained in the shelters at all times! (No horse play!)
(5)   All members of the public will have to be trained to protect themselves, their children, pets and their property.
(Cape Argus, 27 February 1959)
---
1979 – How safe is the new Koeberg nuclear power plant?
Science Reporter: Towns in nuclear fallout area unprepared
No municipality within an 80 km radius of the Koeberg nuclear power station, the main fallout area, appear to have any idea on how to handle the deadly effects associated with radiation. Most reacted as if they had not yet even given any consideration whatsoever as to the possible dangers.
J.R. de Villiers, Goodwood's town clerk, said he hoped the summer southeasters would "blow any leakage away", but indicated that Goodwood was situated in the centre of a low pressure system . . ."
A spokesman for the mayor of Bellville told The Cape Times that the municipality had no contingency plans for evacuation "and, anyway, where on earth would all the people go?"
W.P. Visser, Brackenfell's town clerk, stated that "any thinking person would be scared, no matter how safe the machinery is said to be", as there was always the human element. He referred to the scale of the investment in Koeberg and wanted to know whether it was too late to stop the development now.
D. Smit, town clerk of Durbanville, said although his town is not in line of sight from Koeberg and protected by high ground, his people were still concerned about the potential for disaster.
The mayor of Parow, J.T. Louw, said: "I have full trust in those involved. The people involved could not be so stupid as to learn the right lessons from Harrisburg – obviously they know what they are doing."
(The Cape Times, 3 April 1979)
---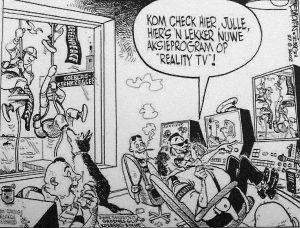 'n Spotprent deur Fred Mouton van Green Peace wat protes maak by Koeberg.
(Die Burger, 26 Augustus 2002)