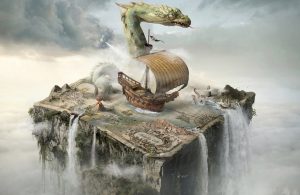 1488
Bartolomeus Dias sails around Cape Town to Mossel Bay and makes contact with Khoikhoi. (Photo: knotofstone.com)
1490
Dias names Cape Peninsula "The Cape of Storms", later changed by King John II of Portugal to "Cape of Good Hope" when he realised that this was the turning point to the east.
1498
Vasco da Gama sails around Cape of Good Hope.
1503
Antonio da Saldanha anchors in Table Bay. He climbs Table Mountain to ascertain his position, being the first European to do so. He also collects fresh water from a spring at the foot of the mountain.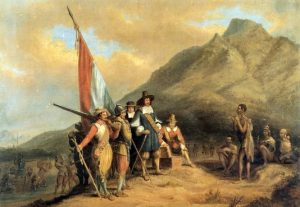 1652
Jan van Riebeeck arrives with his garrison of three ships – Dromedaris, Reiger and the Goede Hoop, with 125 men and four women to set up the first Dutch/European settlement at the Cape.
1653
First Malay convicts (Dutch slaves) arrive.
1655
White rhinoceros is killed at the mouth of the Salt River, using over a hundred shots at point-blank range.
1666
Construction on the Castle of Good Hope starts; completed in 1679.
1795
First British Occupation of Cape Town. A fleet of nine British warships, carrying 1600 troops anchors in Simon's Town. The Dutch abandons Simon's Town and takes up defensive positions at Muizenberg, where they surrendered.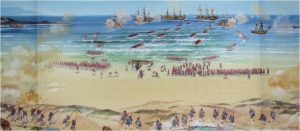 1806
Above: Battle of Blaauwberg landing 6th Jan 1806 by Angus Mc Bride Cover of Blue Berg by Mark Dunbar Anderson. (Photo: chavonnesbattery.co.za)  The 2nd British occupation of the Cape. A fleet of 63 British ships, carrying over 7000 troops anchors off Robben Island. The troops land at Blaauwberg where they are met by 2000 Dutch troops. They were outnumbered and peace was declared two days later.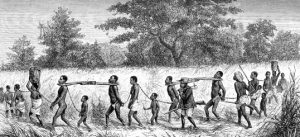 1834
Slavery in the Cape is abolished. A total of 39 021 slaves, valued at 3 041 000 pounds (77 pounds per slave) are set free.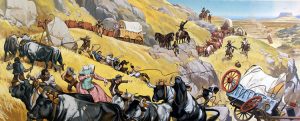 1836
Great Boer Trek, under Maritz, Potgieter, Retief and Trichardt. British did not pay them enough for their slaves, so they left the Cape. (Photo: hendrikdevries.tumblr.com)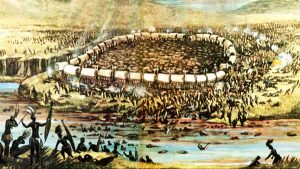 1838
Battle of Blood River: This happens after the murder of the Great Trek leader Piet Retief and his boer commando by Zulu chief Dingaan. Some 3000 Zulus die in the ensuing battle.
1856
The self-destruction of the Xhosas: A young Eastern Cape girl prophesised that she (only 14 years old) had seen in a dream that on a certain day the sun will turn red, their cattle and crops will restore and the great Xhosa warriors of the past will rise from the dead to drive the whites out of South Africa. They destroyed their crops and killed over 350 000 cattle. The cattle killings continued till 1858. When the day finally came, nothing happened. More than 50 000 Xhosas starved to death. The Xhosas who survived, had to go to the cities to work for food.
1869
A Griqua (an indigenous tribesman) picks up an 83-carat diamond. It is named "The Star of Africa".
1897
Queen Victoria's Diamond Jubilee is celebrated.
Enoch Sontonga composes "Nkosi Sikilel iAfrica".
Cape Town population rises to above 60 000.
1899 – 1902
The beginning of the Second Anglo-Boer War. With peace is signed in Pretoria in 1902.
The Mount Nelson Hotel opens.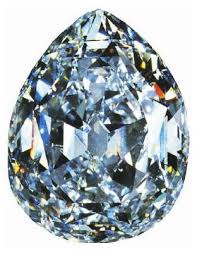 1905
Cullinan diamond is found. At approximately 1 1?3 pounds (600 grams), 3 7?8 inches (98 mm) long, 2 1?4 inches (57 mm) wide and 2 5?8 inches (67 mm) high the diamond was twice the size of any previously discovered.
1910
Britain's four Southern African colonies unite to form the Union of South Africa.
1912
African National Congress (ANC) is founded.
1913
Cape Town population rises to some 150 000.
1914
World War I breaks out.
The National Party (NP) is established.
1923
The Urban Areas Act requires blacks to move out of white areas and live in separate areas.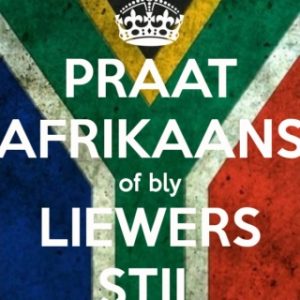 1925
Afrikaans becomes an official language, replacing Dutch.
1938
The 100 year celebration of the Great Trek.
Surfboarding introduced in Durban.
1950
Appartheid Group Areas Act: It provided for specific areas to be designated for the four major racial groups – European, Bantu, Coloured and Indian. The Immorality Act: According to this act it was an offence to marry over the colour line and holding hands with another race was frowned upon. Sex over the colour line was a criminal offence!
1952
Cape Town hosts the huge 300 year celebration of Jan van Riebeeck's arrival in the Cape.
1960
The Sharpville shootings on 21 March:  A total of 69 black people are killed and another 186 injured. This is front page news all across the globe.
The ANC & PAC parties are banned.
Prime Minister Hendrik Verwoerd makes more excuses why South Africa should not get TV, even though it's been available in other countries for many years.
1961
Albert Luthuli is awarded the Noble Peace Prize.
It is 31 May 1961 and South Africa becomes a Republic and leaves the Commonwealth.
1963
Police swoop on the Rivonia base of Umdhonto, arresting main ANC leaders.
1964
The Rivonia trial ends – the main ANC leaders receive life sentences.
Nelson Mandela and other ANC freedom fighters are imprisoned.
1965
Cape Town municipality lifts ban against wearing bikinis!
1966
District Six is declared a whites only area. A total of 60 000 people have to leave their homes.
Prime Minister Hendrik Verwoerd is assassinated.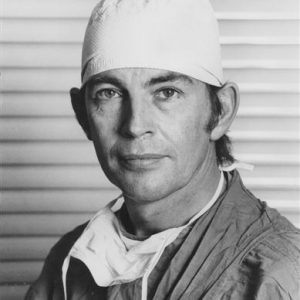 1967
Professor Christiaan N. Barnard performs the world's first heart transplant at Groote Schuur Hospital.
Pick 'n Pay Supermarkets established by Raymond Ackerman in Cape Town. Later Pick 'n Pay becomes the biggest supermarket chain store in SA.
1975
South African troops enter South-Central Angola to protect the Unita-outpost Huambo. This results in years of border wars, in which scores of young South African soldiers are killed and maimed. There were many prisoners of war and many missions to Angola to try and rescue those POW's.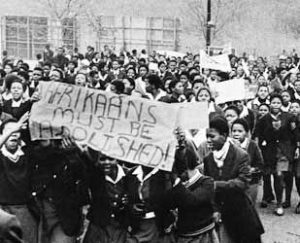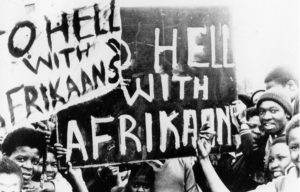 1976
High school students protest in Soweto against Afrikaans being the language medium in education. Violence soon spreads to the Cape. More than a 1000 protestors die.
South Africa is one of the last countries in the world to FINALLY get television.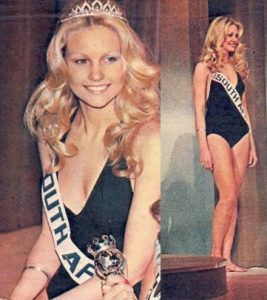 1977
The 19 year old South African Anneline Kriel wins the prestigious Miss World
title.
1984
Archbishop Desmond Tutu receives the Nobel Peace Prize.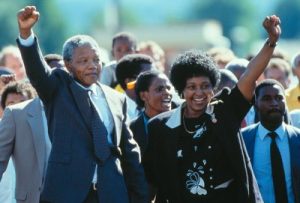 1990
The ANC, PAC, SACP are unbanned after more than 30 years. The ANC freedom fighter Nelson Mandela is released on February 11. Nelson Mandela (fondly known as Madiba) is elected deputy-president of SA and sets out on a world tour.
1991
USA lifts sanctions against South Africa.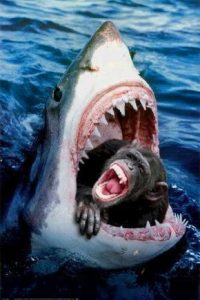 Above: South Africa becomes the first country in the world to protect the Great White Shark.

1994
First democratic elections held (May 10). Above is the old South African flag, next to the new one on the right. Nelson Mandela inaugurated as the first black and democratically-elected president of South Africa.
Soon the new flag was everywhere to be seen, on bikini's and beach towels.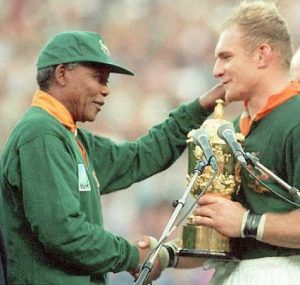 1995
South Africa hosts the prestigious Rugby World Cup championships. The underdog Springbok rugby team wins the trophy. Nelson Mandela had an integral part to play in the team's glorious victory.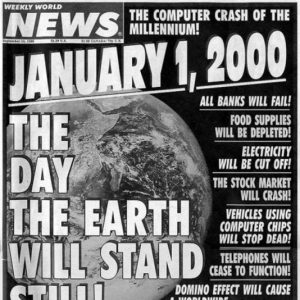 1999
The Y2K-phenomenon scares everyone, worldwide.
2000
South Africa celebrates the new millennium, with Nelson Mandela lighting a candle in his old prison cell on Robben Island.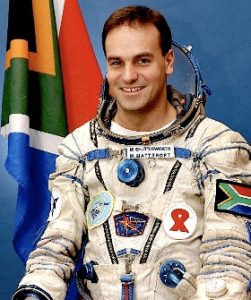 2002
Mark Shuttleworth, South Africa's first internet billionaire at the age of 26, made world news as he sold his company, Thawte Consulting, for R3.45 billion ($350 million then) to an American company. He later became the first South African in space.
2004
The third democratic elections take place.
Desmond Tutu receives a Nobel Peace Prize.
2006
Charlize Theron wins an Oscar for Best Actress for the movie "Monster".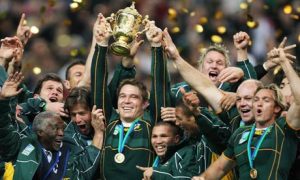 2007
The South African rugby team the Springboks wins the Rugby World Cup for the second time in 12 years.
2008
The South African national athletics team receives only one silver medal at the Beijing Olympics.
Nelson Mandela celebrates his 90 birthday. His birthday is celebrated all over the world.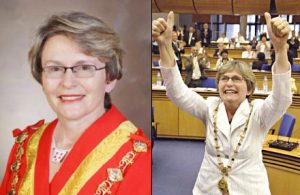 Cape Town city mayor, Helen Zille, is awarded The Best City Mayor in the World award. (Photo: skyscrapercity.com)
2009
Wine-making in South Africa is 350 years old. In 1659 Jan van Riebeeck made the first bottle of wine.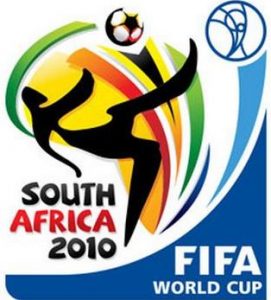 2010
South Africa hosts the FIFA Soccer World Cup. Billions of dollars are spent on infrastructure, new stadiums, bigger and better roads, faster trains and bigger and better airports. More than "10 million" tourists expected to visit South Africa in 2010.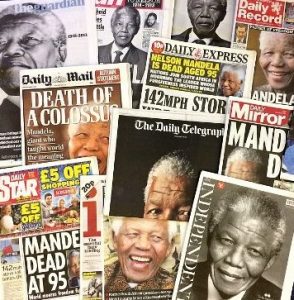 2013
Nelson Mandela (18 July 1918 – 5 December 2013) sadly die. (Photo: bayana.blogspot)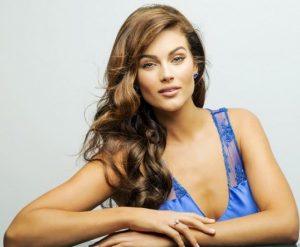 2014
The South African Rolene Strauss is Miss World. (Photo: za.modelisto.com)